Bailey's Irish Dream
Purebred Connemara Stallion, S1866 XLIV, born 2005, 14.2h black bay
ACPS inspected and approved, HWSD N/N
Balius Turlough x Beacon's Siobhan (by Balmullo's Beacon)

Bred by Peggy Czwal; owned Owned by Pat Shields, Dry Brook Farm, in Harwinton, CT.

Available for breeding; contact Pat at 860-866-7116

New England Dressage Association 2015, 2016 & 2017 Futurity Stallion

Dreamer was ACPS Region I 2015 Reserve Champion Connemara Stallion


Foals by Dreamer ACPS Reg I 2015 Purebred Connemara Champion In Hand, Drybrook Winnifred (Bailey's Irish Dream x Lasrachai's Blue Oaks Dunlaith)

SIRE & DAM
Balius Turlough X Beacon's Siobhan (by Balmullo's Beacon)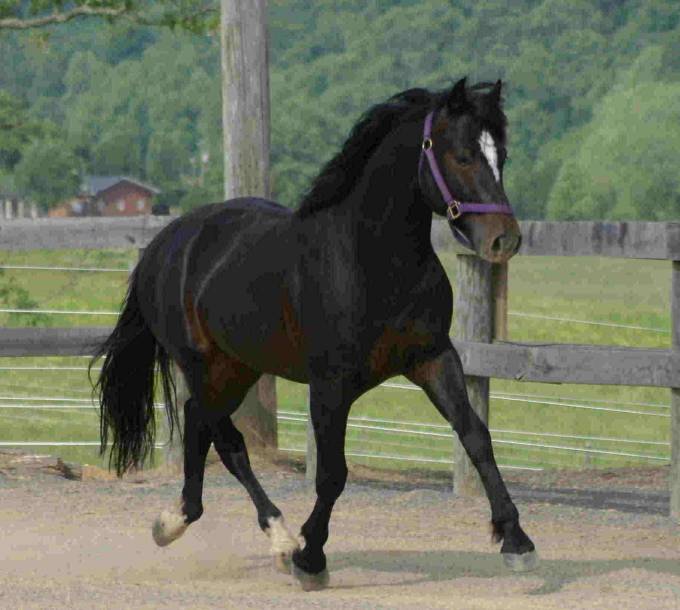 FROM ACPS.ORG "CONNEMARA HAPPENINGS" JANUARY 2013:
Exeter, NH: Sally Oxnard has sent this report regarding Equine Affaire. "Region 1 sponsored the ACPS Connemara booth at Equine Affaire in West Springfield MA on November 8,9,10, and 11. We had the use of the Pop-up from the WEG booth, and videos running on our large screen TV, and ACPS pamphlets, magazines, and Region 1 and 2 fliers to hand out, as well as the Region 1 store of course. The agenda was jam packed with a breed demo in the Coliseum on Sat at 11 AM (prime time) as well as a clinic by Sarah McRae and a sport pony demo. The well choreographed Breed Demo started with 2 stallions driving, Adirondack A'Hearne (Rosenaharley Laurens x Hideaway's Smitheranne) owned and driven by Cindy Fletcher, and Bailey's Irish Dream (Balius Turlough x Beacon's Siobhan) owned and driven by Pat Shields. Then we brought on Fidelio III, (Quickly Ravary x Swing River) a 19 yr old palomino gelding imported from France who is owned and ridden in FEI dressage by Fern Feldman. Then the jumping ponies arrived, including Aluinn Durango (Aladdin's Denver x Patty's Meredith) owned and ridden by Sarah McRae, Crib Glass Bugle ( Aladdin's Denver x Millpond Irish Wink) , owned and ridden by Shannon Wallman- Hatch, and Hohnhurst Madeleine ( Patty's Benedict x Hauptstutbuch Noerdlunds Madigan) , owned by Lori Decato Metz and ridden by Laine Metz.
The petting stall ponies which were much admired included the stallions Harry and Dreamer, and various irresistible foals from Drybrook Farm and Trum Searah farm."

ACPS Current News: Week of 12-4-11

West Springfield, MA: Regions 1 and 2 had another excellent showing in November at Equine Affaire, 2011. Sally Oxnard says, "In addition to the booth and the petting stall we had a breed demonstration during prime time in the Coliseum. The ponies were the stars as always."
Bailey's Irish Dream, a stallion owned by Pat Shields and ridden by her daughter, Emily Shields, was the hunter pony in the demonstration and impressed many with his easy going style.