BALMULLO FARM
6494 Charles City Road, Richmond, VA 23231 Phone: 804-507-0269 e-mail: balmullofarm@gmail.com


above: Foothills Field Marshall (a.k.a. "Bruiser")
BALMULLO FARM

DONNA DUCKWORTH, OWNER AND MANAGER

Breeding fine Connemara and Connemara-TB crosses since 1980.
We specialize in quality horses and ponies with good conformation, movement, and type.

WEB SITE CONTENTS

BELOW - Kids and Ponies, News, History and Location
News

Summer/Fall 2013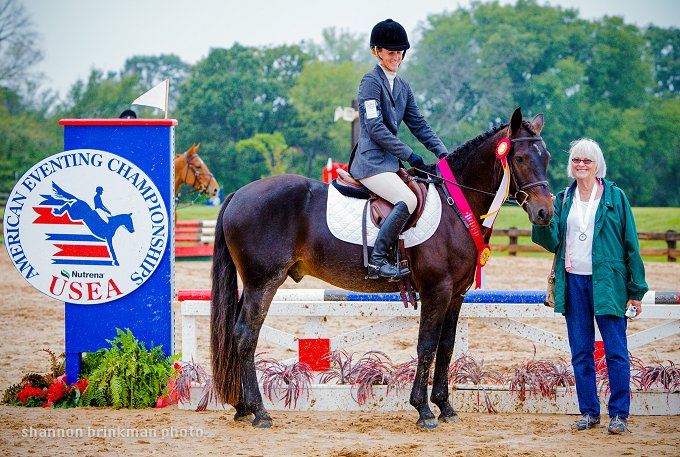 BRUISER: This has been a VERY exciting year for Foothill's Field Marshall aka Bruiser. In 2012 he earned scores of 68.9, 69.6, 70 and 73% at two recognized dressage shows and qualified for the Regional Dressage Championships in Atlanta last Fall where he came in 12th out of 25. He then turned his sights to the eventing world and began training with Elliott Blackmon. After winning three Beginner Novice events he was qualified for the USEA American EVENTING Championships. These were held the weekend of September 27 at the Texas Rose Horse Park in Tyler, TX and Bruiser was the RESERVE CHAMPION. He was tied for third out of 23 after dressage in his division. Half brother, WH Top Gun, was first out of 33 in his division after dressage and finished in the ribbons. Both were ridden by Elliott Blackmon.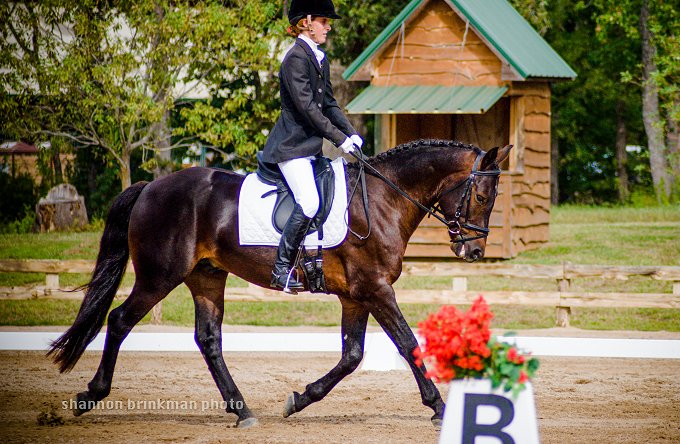 After XC Bruiser was in second all by himself having had a perfect round. And he finished in SECOND after a perfect stadium round. It was all very exciting with six other Connemaras present, all doing well!!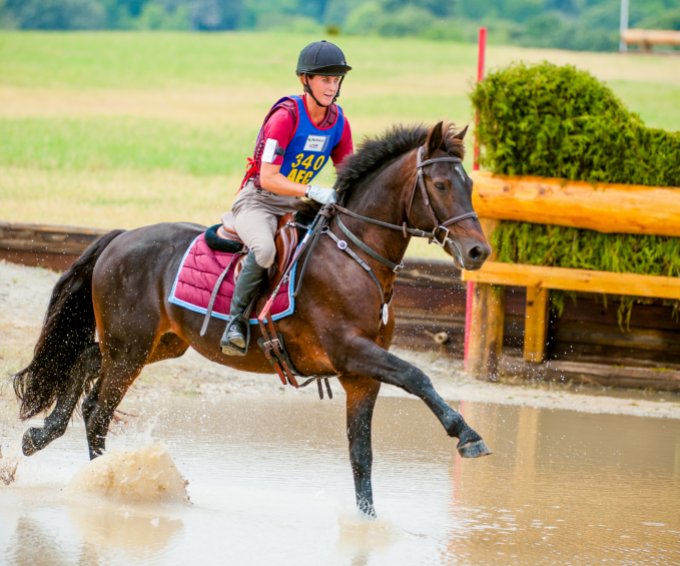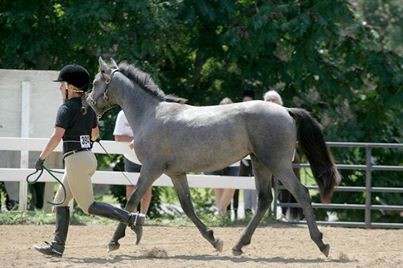 JUNIE: Bruiser's daughter, Balmullo's Summer Solstice (aka Junie) had a tough first year, injuring herself rather badly. But she has recovered and is now a very big almost 14 hh at 18 months. She also went to her first show, the Region III Connemara show, where she was the model of a well-behaved yearling and came in third place in the yearling futurity.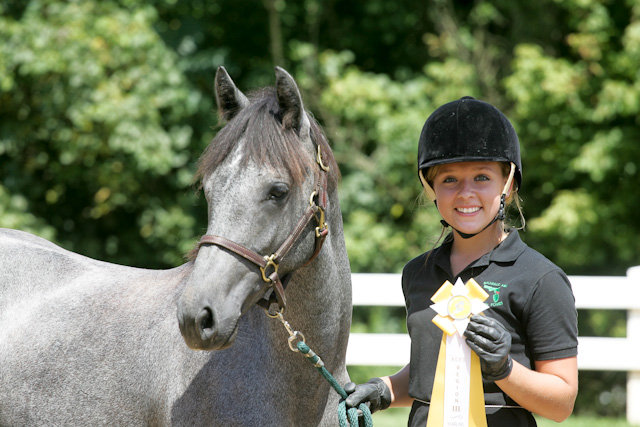 MINNIE: Another exciting event was the arrival of the Irish import,*Belle Dawn aka Minnie from Florida where she has been living since we moved to Virginia 3 years ago. She immediately became everyone's favorite pony having converted herself from a pony we used to call Meanie instead of Minnie to a perfect lady, able to be ridden by even the youngest riders.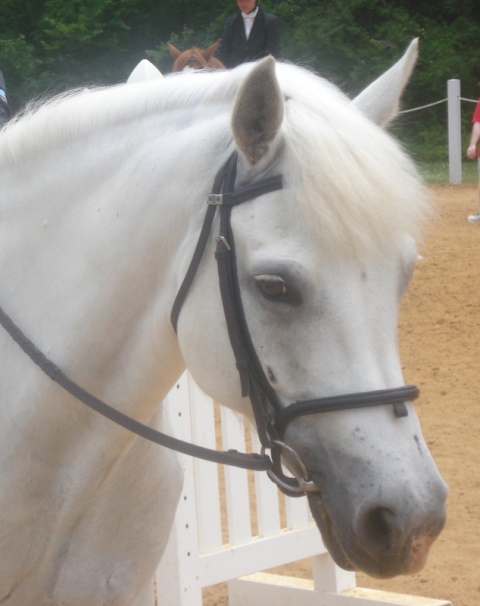 CAMP HORSESHOE: We also held our second annual Camp Horseshoe. This year we had 20 little ones for a week of riding and swimming. In spite of some really hot days everyone had a great time and progressed greatly with their riding skills….of course we couldn't have this fun camp without wonderful, forgiving Connemaras!! So thank you Jimbo, Katie, April, Minnie, Mimi, Pinky and Emma.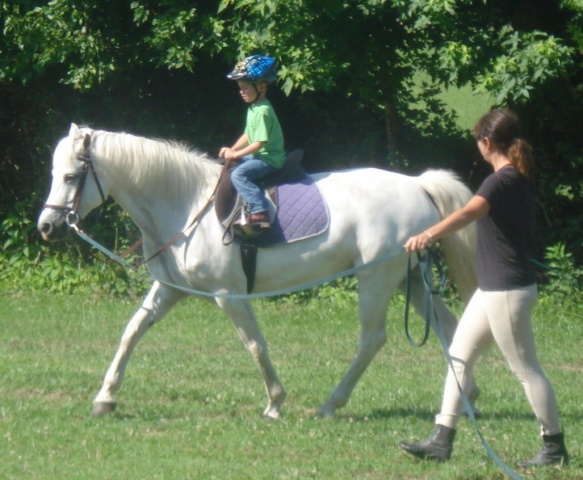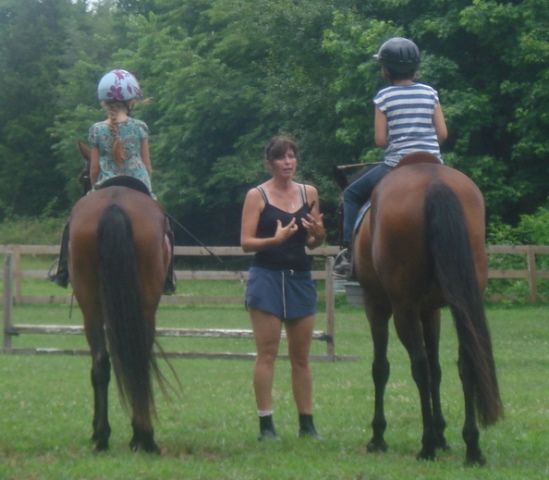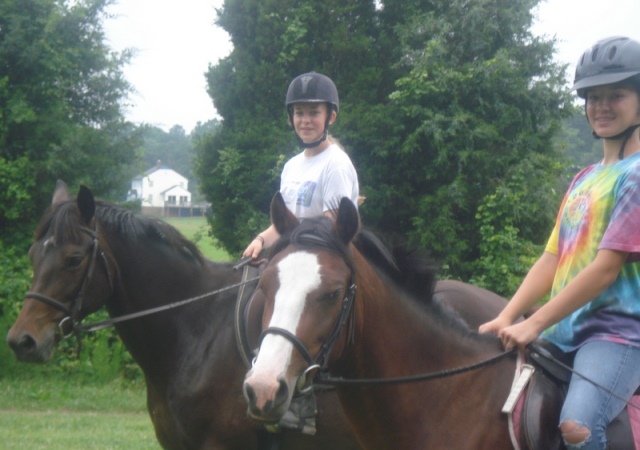 REGION III SHOW: This year the Region III Show was held for the first time at the Virginia Horse Center in Lexington. So it was with some trepidation that we packed up SEVEN ponies and all their belongings for a three day visit to an unknown venue in Lexington. But there was nothing to worry about, it turned out to be a fabulous spot. The barns and three sand rings were all within steps of each other as well as the famous Connemara boutique, making for a well-coordinated and pleasant experience. The substantial stalls were arranged around an indoor ring so that even though the ponies couldn't see their neighbors, they could watch the warm-ups in the ring and pick up some pointers. Two other aspects that added to everyone's comfort included indoor bathrooms and people to clean the stalls after the show! There were classes in dressage, In-Hand for Purebreds and Half-breds, Hunter, Trail, Fancy Dress, Leadline, Families, The Great Egg and Spoon Challenge, and the Half Century or Vintage class in which the age of pony plus rider must be greater than fifty. We had one or another of the ponies in almost every class and all six of the ridden ponies rode together in a dressage Quadrille. Everyone got a ribbon of some color or another but the only one that really mattered was the blue ribbon that was awarded to the Quadrille riders in the Self-Expression Dressage Class. Their musical ride was a real crowd pleaser and the judge liked it as well…..she gave them a 75%!! In addition, all six received a Connemara medal for their extra effort which they all wore proudly for the rest of the weekend.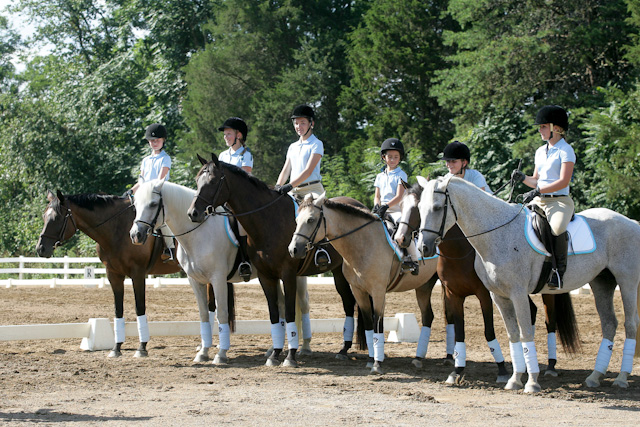 Our other great successes were Ashley Loving winning the Great Egg and Spoon Challenge in a class with over a dozen riders...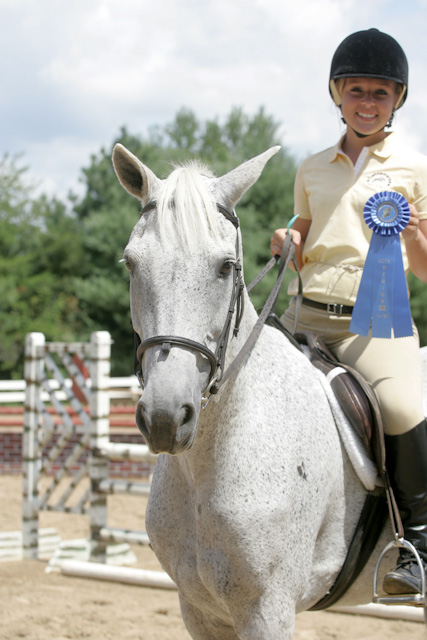 and C R Roaringwater Bay, now retired in Florida, winning the Get of Sire class.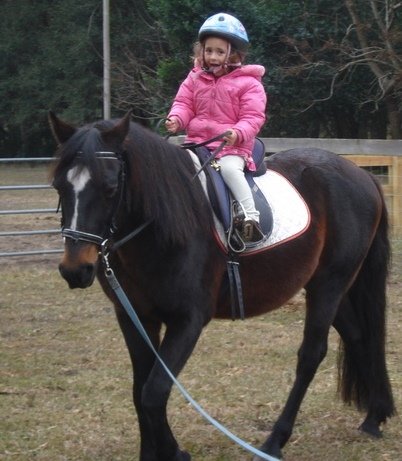 above: Roary in 2009 doing what he loved to do best.
This wonderful stallion's influence is still being felt.
Donna Duckworth and *Belle Dawn won the prize for the oldest pair in the Vintage Class, but that is a dubious honor at best.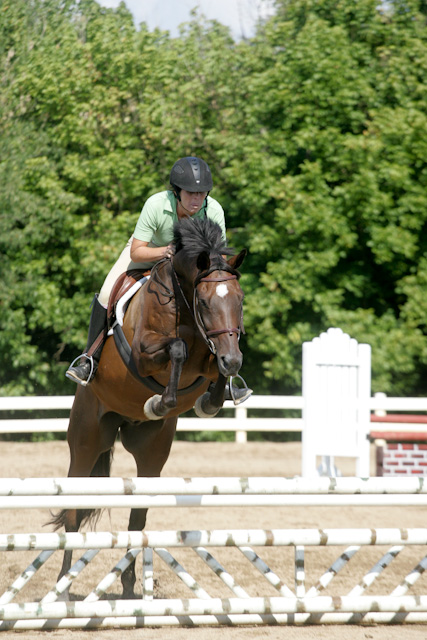 OTHER SHOWS:
We also attended the Region IV show in Mooresboro, NC, with Minnie and Chesapeake Bay and had a fun time there as well. Zeta Bogan riding Minne was awarded the prize for the Highest dressage score of the weekend.

The Hidden Haven Shows and the Fox Pointe Farm Shows, both held in Richmond, are the ones we attend most often. Usually 4 of the ponies go, with Chesapeake Bay and Balmullo's Katydid being the mainstays. Chesapeake Bay (Jimbo) is a real wonder at these shows, often winning ribbons for as many as five riders! He goes in Lead-line, Pre-Short Stirrup, Short Stirrup, Special Equitation, and Green Hunter!
This year at the Hidden Haven Shows he was Year-end Champion in Pre-Short Stirrup with Summer Fraughnaugh, and Champion Green Hunter with Alexandra Duckworth. Jimbo And Alexandra also went to the Cabin Branch Starter Horse Trial at the North Carolina Horse Park in Pinehurst in November, and again they were stars! First after dressage with a 24, he did a lovely hunter round in the stadium phase that got him 8 time penalties. However, he zoomed around XC with no time or jumping penalties to end up in 4th place
above and below: Alexandra Duckworth on Chesapeake Bay (Jimbo)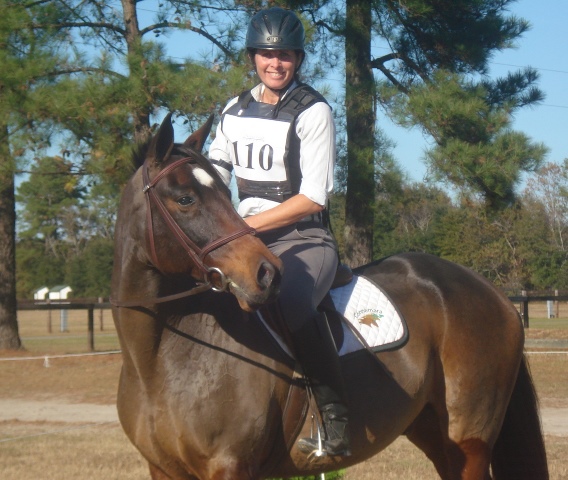 below: The Aladdin Girls at Hidden Haven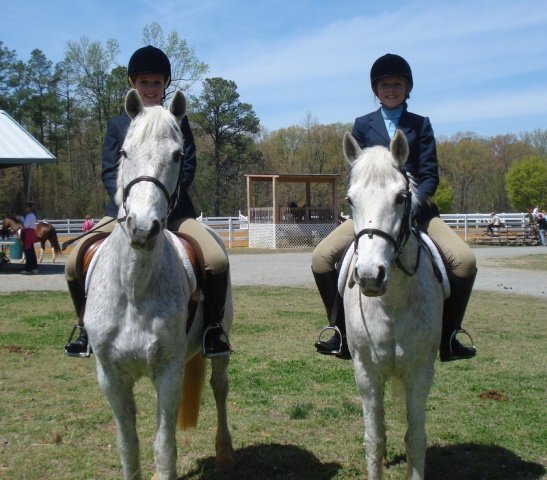 below: Summer Fraughnaugh on Jimbo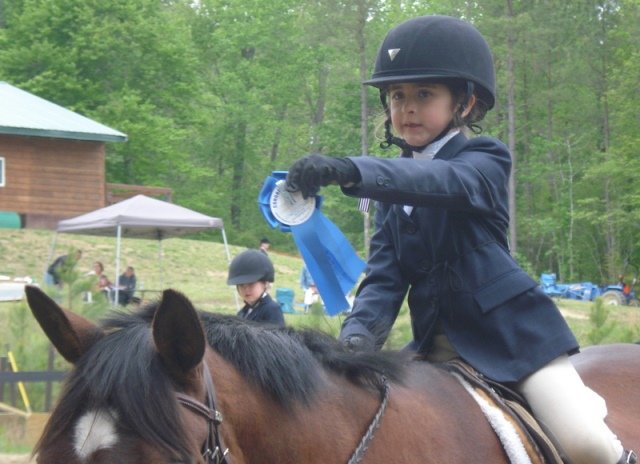 OLDER NEWS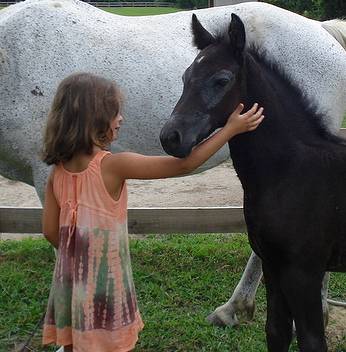 Bruiser's first foal arrives:
Another exciting event was the birth of Bruiser's first and, so far, only foal. Balmullo's Summer Solstice aka Junie was born on June 19. Proud mother is Hillside Emily. Emily, by Aladdin and out of Tre Awain Balefire, is one of ACPS's Premium mares. Balefire is by Gilnocky Ard Righ McDaire, another very accomplished dressage Connemara, so Junie has all the genes to be a great dressage pony!
Camp Horseshoe: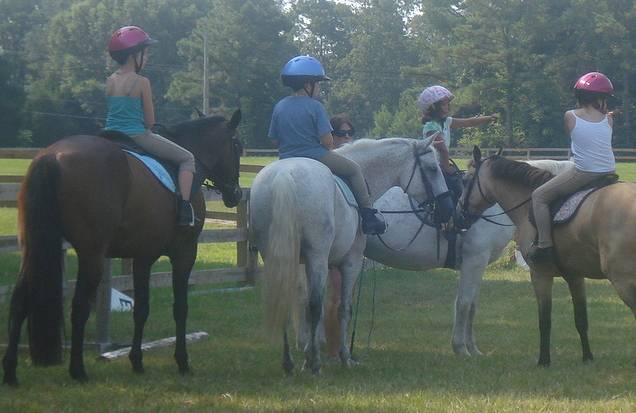 In June, 15 4-11 year-olds came to Balmullo Farm every morning for a week for lessons in riding and horse care, combined with swimming and crafts. The week was capped off with a small show with classes in equitation as well as some fun and games classes. Alexandra Duckworth was the main instructor but was helped by Ashley and Taylor Loving and Zeta Bogan. These three wanted to earn money to go to the Region III Connemara show in Middleburg in July. The camp was a great success with more than one mother stating that it was the best camp her child had ever been to.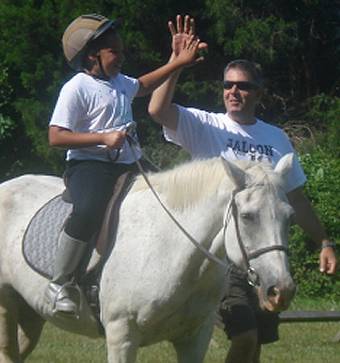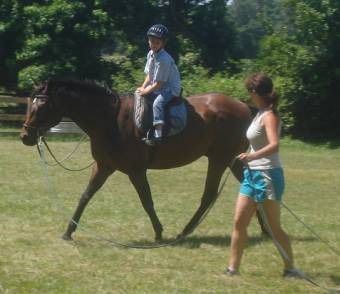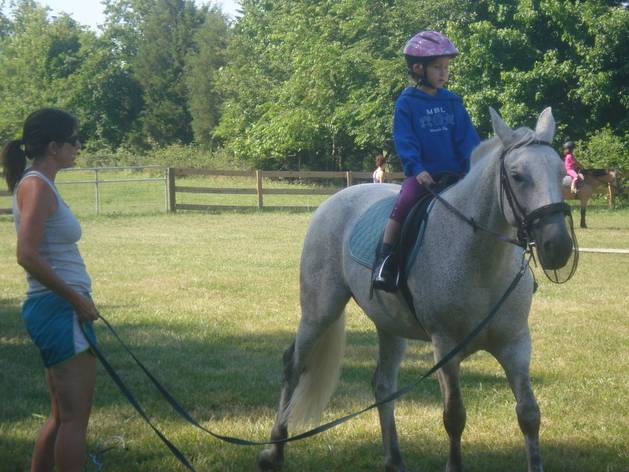 Region III Show: With enough money earned at camp for the horse show, Alexandra, Ashley, Taylor, Zeta, along with Summer Fraughnaugh and Lulu Malinowski packed up Balmullo's Uproar, Balmullo's Liffey Lad, Balmullo's Miss Emma, and Chesapeake Bay for the show in Middleburg. It was Uproar's first show away from home and she behaved impeccably even winning a blue ribbon for Ashley. Taylor was the winner of the junior showmanship class with Miss Emma, while 7-year-old Summer and 9-year-old Lulu both did dressage tests on Chesapeake Bay and took the blue and red ribbons, respectively. In all, it was a fabulous time for everyone, even the ponies seemed sad that it was over!!
Photos below are from the 2012 Region III show:-)

Summer getting ready for her dressage test: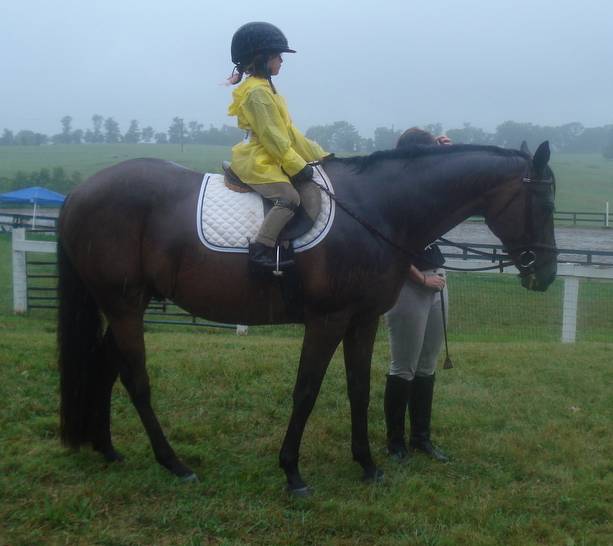 Taylor on Miss Emma doing their dressage test: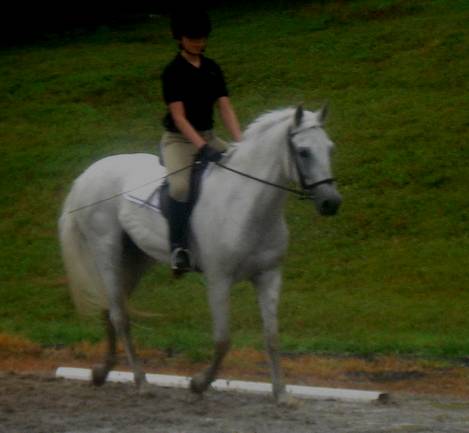 Taylor wins the Junior Showmanship: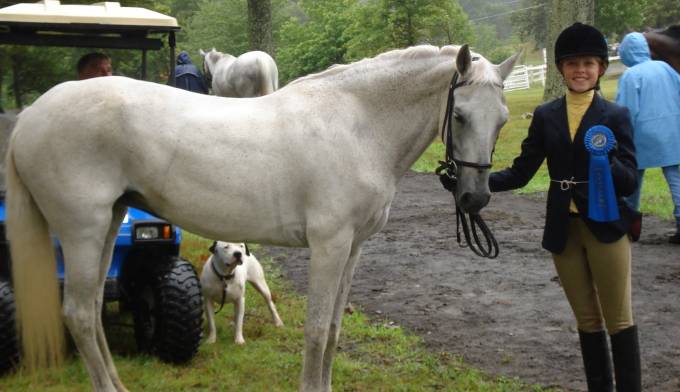 Balmullo Farm was off to the Olympics for the costume class: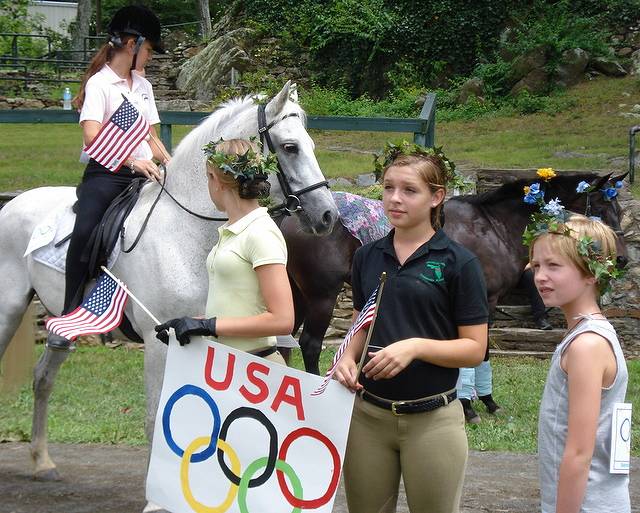 Ashley on Liffey Lad and Donna on his mother, Miss Emma, took second in the family class.
Balmullo's Uproar admires the farm's ribbons......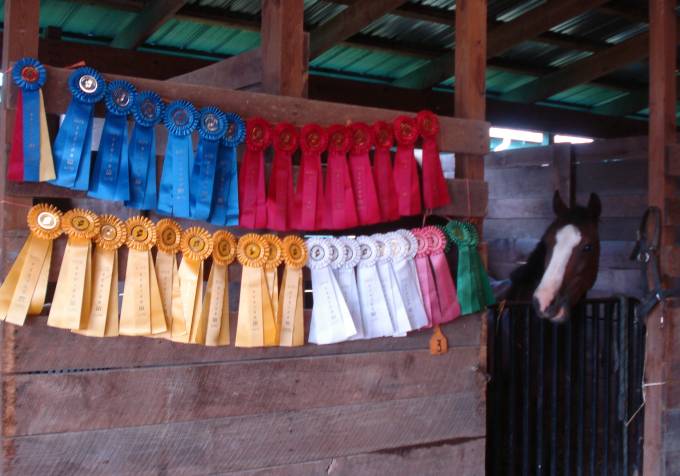 2011 Champion Bruiser!!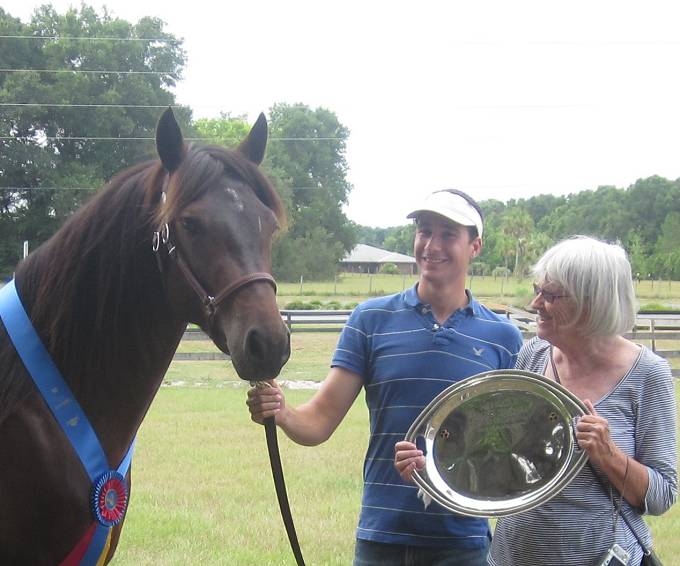 Region IV of the ACPS held its annual show at Canterbury Showplace in Newberry, Fl on June 25 and 26. Foothill's Field Marshall (Gun Smoke x Foothills MayBee) was the winner of the stallion class and Champion In-Hand! He was bred by Vanessa Morgan and is owned by Donna Duckworth and Balmullo Farm. Field Marshall, known to his friends as Bruiser, also won the prize for the highest dressage score with a 71% in Training Level Test 2! He is trained and was ridden by Luke McLaughlin. It was the second year in a row that Luke walked away with the High Score Dressage Award. Last year he won with Balmullo's Liffey Lad.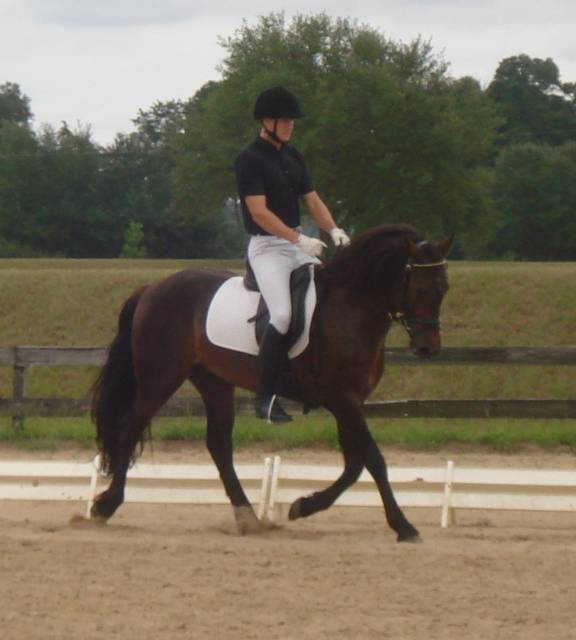 Shortly after the show Bruiser left Florida for the long, hot trip to Virginia. He is now living in domestic bliss with Hillside Emily aka Mimi (Aladdin X Tre Awain Balefire) at Balmullo Farm in Richmond and we are hoping for a Bruiser/Mimi foal next June.

Travelling with Bruiser from Atlanta was Balmullo's Uproar, now known as Pinkey. Pinkey had been in training with Peggy Allen at Lake Oconee Equestrian Center in Eatonton for six months and is now ready to make someone an adorable pony hunter (pictured below).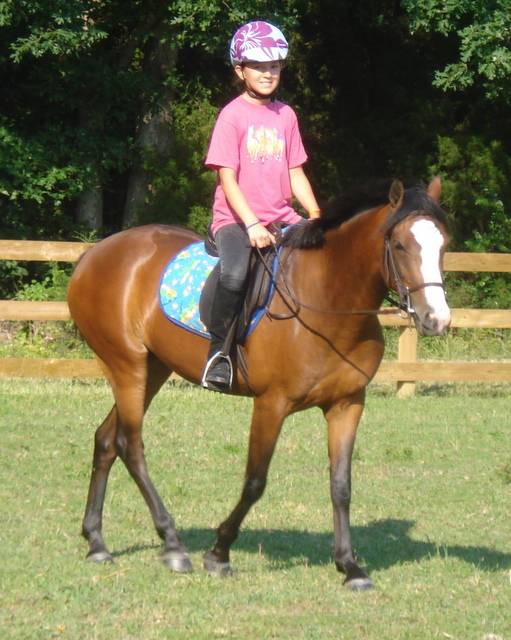 In late May, six-year-old Summer Fraughnaugh made a big leap in her show career….she entered her first Walk class by herself!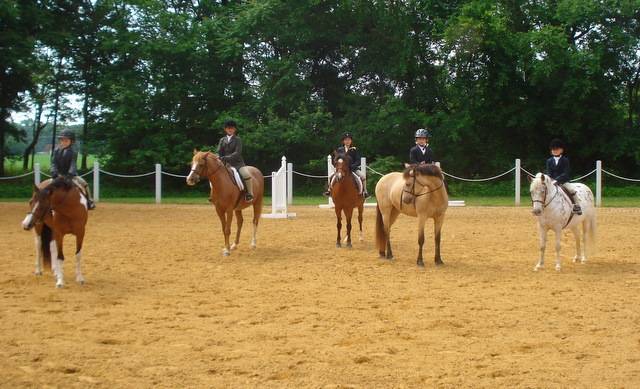 She was riding Balmullo's Katydid, owned by Mattison and Susan Hearn, who behaved impeccably.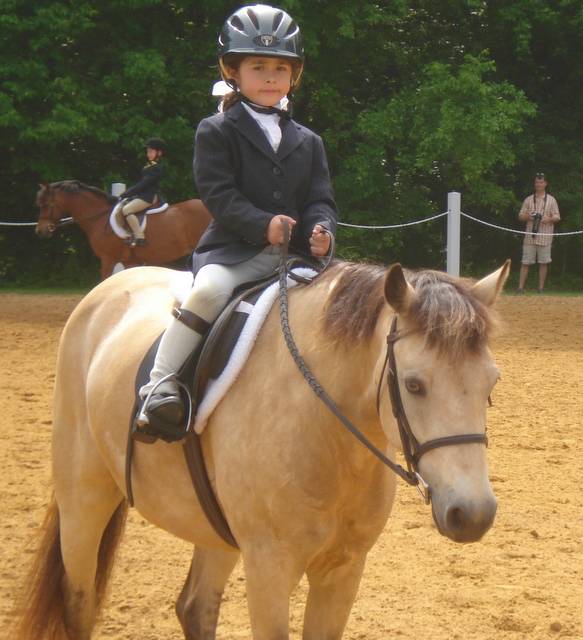 We now have a fairly large number of purebreds and halfbreds that are ready to go to new homes, either as sales or as a lease.
See our sales list to find that pony of your dreams!!

BALMULLO FARM MOVES TO VIRGINIA:
The big news from Balmullo Farm is that we have moved!! We are now located on the east side of Richmond, VA, just minutes from daughter and number one helper, Alexandra Duckworth. We said good bye, somewhat sadly after 30 years, to Balmullo Farm, Alachua, on December 16, 2010, and arrived at Balmullo Farm, Richmond, with four ponies, to join the three already here, and two dogs, just in time for six inches of snow. Bruiser (Foothill's Field Marshall), Roary (Concord River Roaringwater Bay) and Minnie (*Belle Dawn) were lucky to have stayed in Florida with friends so missed out on all the white stuff!! Bruiser is with Jim and Nancy Kilcrease where he can continue his training with Luke McLaughlin, before coming to Virginia in the Spring. And Minnie is staying with Kristen Sealy for her stepson, Ty, to ride, while Roar is with old friend Janet Wootten and her two mares, one a daughter of Roary. But snow or not, all transplantees seem healthy and happy, with Balmullo's Isabelle, Balmullo's Belladonna, and Biscayne Bay joining Balmullo's Miss Emma, Hillside Emily, and Courtney's April Frolic. Balmullo's Katydid also recently came to stay, while Wondy Pierre, a half Percheron by Balmullo's Liffey Lad, has gone on to his new home in Maryland. Katydid will be ridden by 5 year old Summer Fraughnaugh.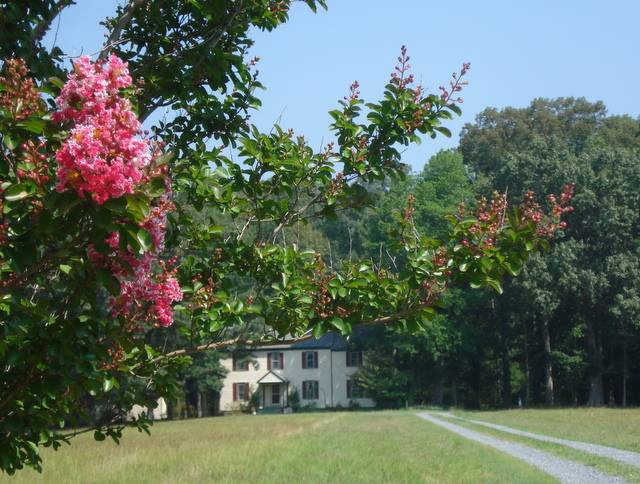 above: Balmullo Farm, Richmond, without the snow

ROARY WINS TOUREEN LADDIE AWARD:
Before packing up to leave we attended the ACPS annual meeting in Alpharetta, GA, where Concord River Roaringwater Bay, Balmullo Farm's long-time resident stallion was awarded the prestigious Toureen Laddie Award for a stallion that has contributed to the breed through his offspring. Roary has been a superb sire of performance ponies and also broodmares. He has produced over 75 foals, and from Balmullo Bay, born in 1985, to Roar's Last Fancy, not yet a year old, there has not been a bad one. These 75 have produced some 67 sons and daughters, who have, in turn, produced at least ten in the third generation. These are working on the fourth generation with two, a colt by Windy Isles out of Foothills Faithfilly and a filly by WH Top Gun out of Balmullo's Matilda having already arrived. As Deb Norman's daughter, Allen Clare, has said, "if you want one to ride, get one by Roary." All have superb temperaments and are extremely tractable. Plus, ahem, winsomely beautiful…and talented. We were very pleased to have Roary so honored before we left his long time home.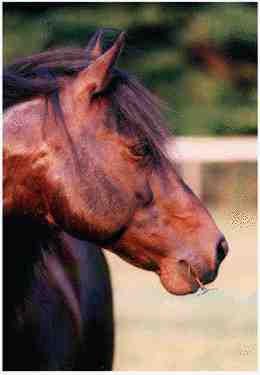 Roary is now enjoying his retirement

FOOTHILLS FIELD MARSHALL MAKES HIS SHOW DEBUT:
Also before leaving coming-3-year-old stallion Foothill's Field Marshall aka Bruiser (*Gunsmoke X Foothill's Maybee) made his show debut (as well as off-the-farm debut) at the Canterbury Two Phase, Three Phase, and Schooling Dressage Show in Newberry, FL. Behaving perfectly, Bruiser earned a first place for Intro Test B with a 66% and a second for Intro Test A with 60%. He was ridden by Luke McLaughlin (pictured below).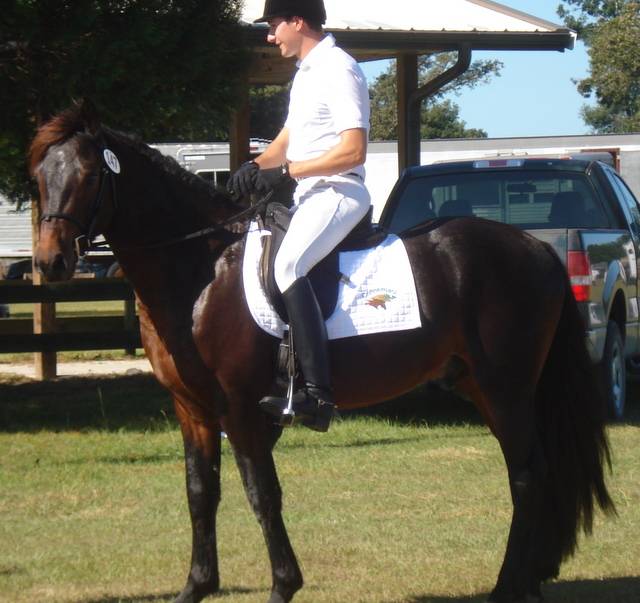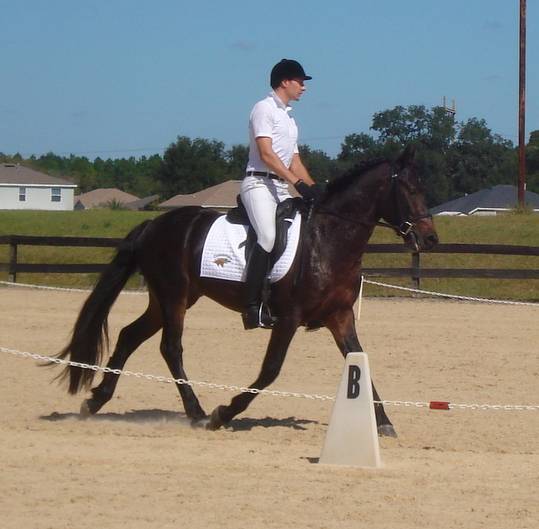 Spring of 2010:
Roary has had his last foal (photos below) and it is one for the ages!! She is a brightly decorated paint filly out of a paint mare. She has been named Roar's Last Fancy and belongs to Tricia Starnes of Alachua.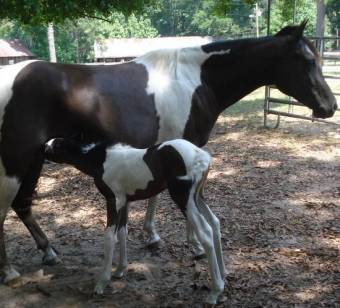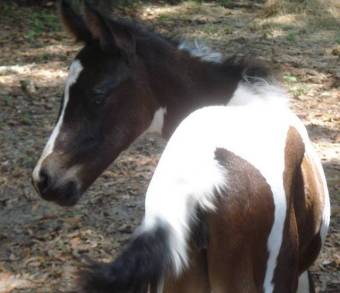 *Belle Dawn aka Minnie gave birth to her third filly on February 15, this one the first foal of *Fernville Matchmaker. Matchmaker was imported in 2006 and is co-owned by Balmullo Farm and Glendale Farm in Virginia. The filly, Balmullo's Belladonna, somehow rolled under the fence as she was trying to stand, and was 'kidnapped' by a barren mare...however, when Minnie's owner found Minnie alone with the afterbirth, she was let out and quickly reclaimed her foal. Bella was, thankfully, none the worse for wear.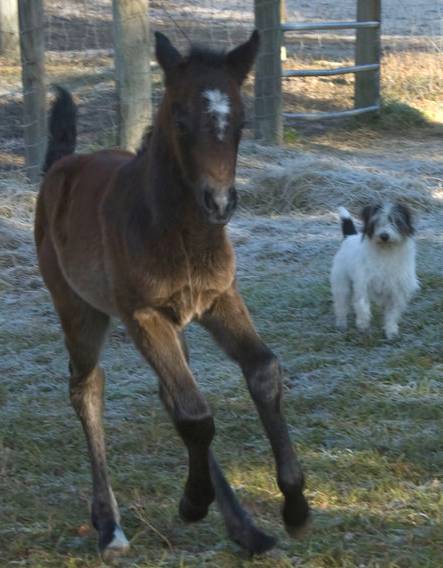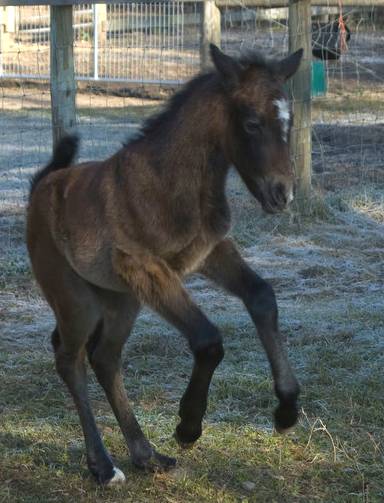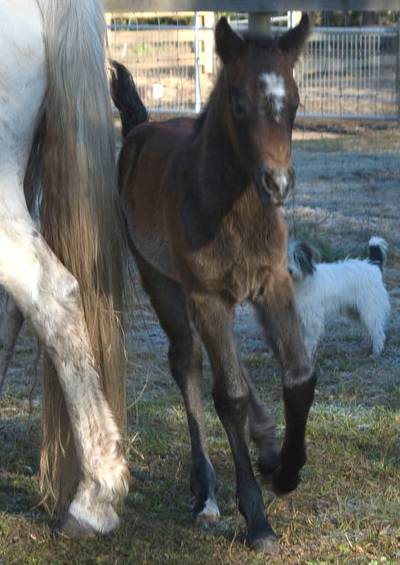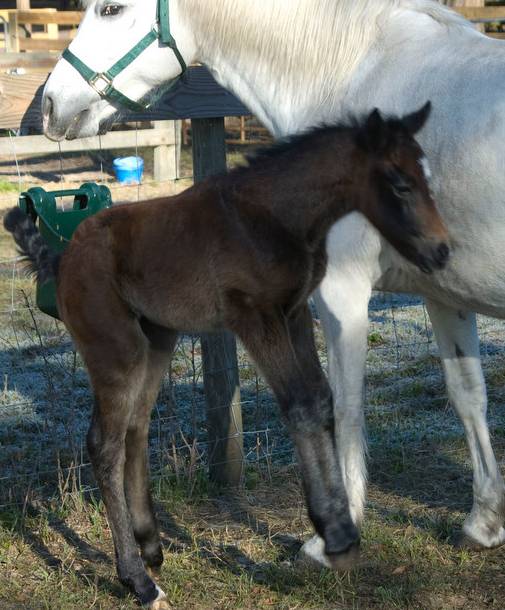 Balmullo's Liffey Lad (Concord River Roaringwater Bay X Balmullo's Miss Emma) has had a busy Fall and Winter going to two competitions where he was shown in the Novice Division by Donna Miller. The first was in November, the Ocala One-Day Horse Trial, a USEA recognized horse trial where Donna showed him for his first time ever at Novice. He did fabulously, coming in 8th out of 24 BIG horses. Then he went to the Poplar Place Schooling Horse Trial, where he did the Novice combined test (Dressage and Show Jumping) and came in third having had a perfect show jumping round.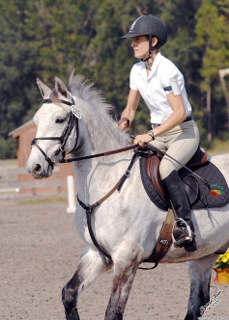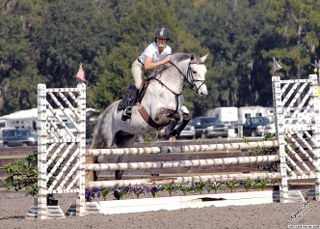 above: Balmullo's Liffey Lad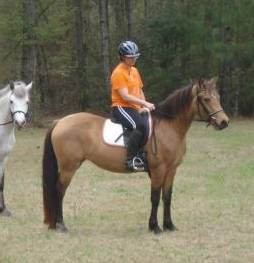 Luke McLaughlin, a professional dressage rider, has been a great addition to our training program, helping get the ponies ready to go to new homes. He has started Balmullo's Dixie Chick (*Gunsmoke X Elphin Chickadee) - photo left - and Balmullo's Uproar (Concord River Roaringwater Bay X Wildwych Clio). Both will be super pony hunters.


Balmullo's Isabelle (Seven Hills' Grey Ghost X *Belle Dawn) is doing some first level dressage movements and has started jumping. And he has kept Liffey Lad fit and ready to go for the Horse trials that Donna Miller has ridden him in.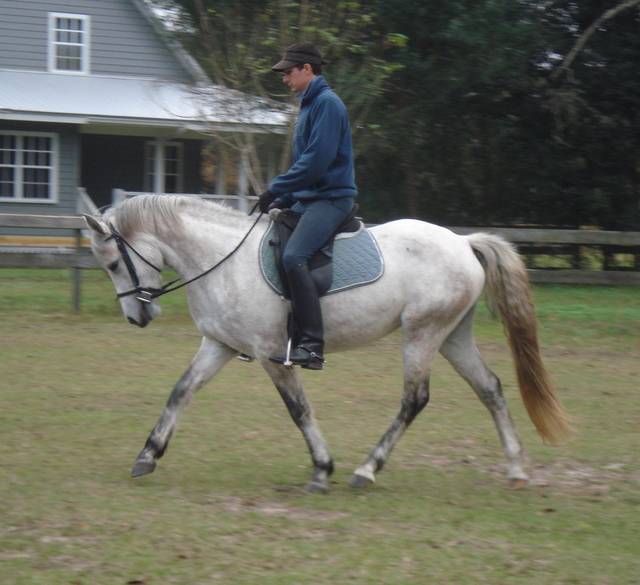 above: Balmullo's Isabelle
Luke has also started formal training of Foothill's Field Marshall (*Gunsmoke X Foothill's Maybee) and pronounces him fabulous! (photos below). Field Marshall (aka Bruiser) is a big, stocky, beautifully moving colt who was two in January. He will likely take the place of Roary who was recently gelded.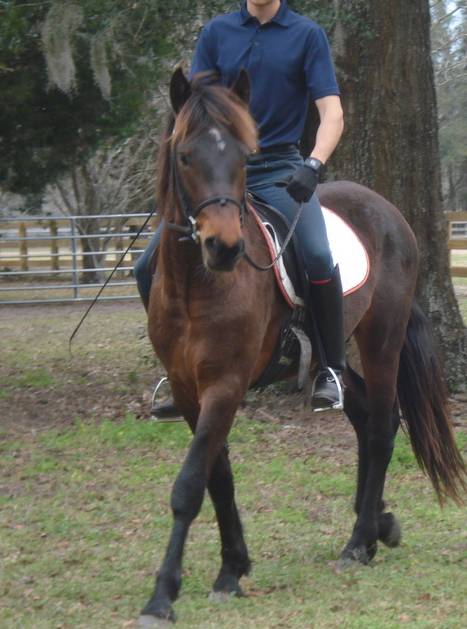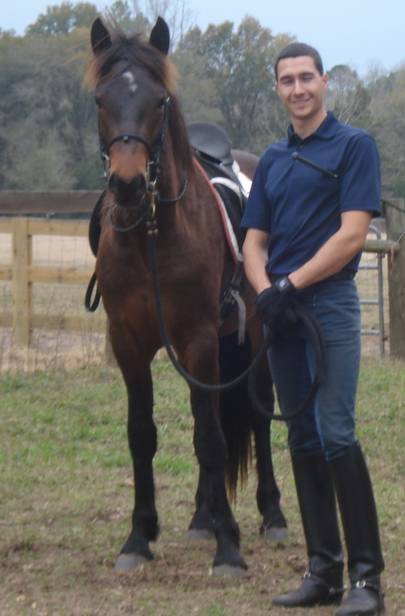 Others still enjoying a carefree adolescence are Balmullo's Jezebelle (Kilfenora Windy Isles X *Belle Dawn ), an exceptionally beautiful coming 2 y.o. filly, and Balmullo's Blue Water Bay (C. R. Roaringwater Bay X Thurman's Irish Peach), born on the same night as Jezebelle, a very handsome gelding. Blue and Bruiser pal around with Balmullo's Wondy Pierre (Balmullo's Liffey Lad X Percheron), a big, sweet yearling.
Concord River Roaringwater Bay (Whitewood Galway Bay X Lynnfield's Proud Hope) aka Roary came to Balmullo Farm when he was six months old, and except for brief stints at Foothill's and Glendale's Farms, has been here ever since. He is now 27. He has sired well over sixty foals that have been successful in dressage, combined training and the hunter ring. One of his daughters, Balmullo's Miss Lucy (o/o Balmullo's Miss Emma) was the first ever winner of the Connemara breeding division at the prestigious Dressage at Devon show. Balmullo's Azalea (o/o Courtney's April Frolic) won the Clifden award for the highest scoring Connemara Pony Hunter (at USEF rated shows) several years ago. It is hoped that Roary will be able to spend his last days running with the other ponies. His last foal is due next summer out of a paint mare and everyone is hoping for a paint!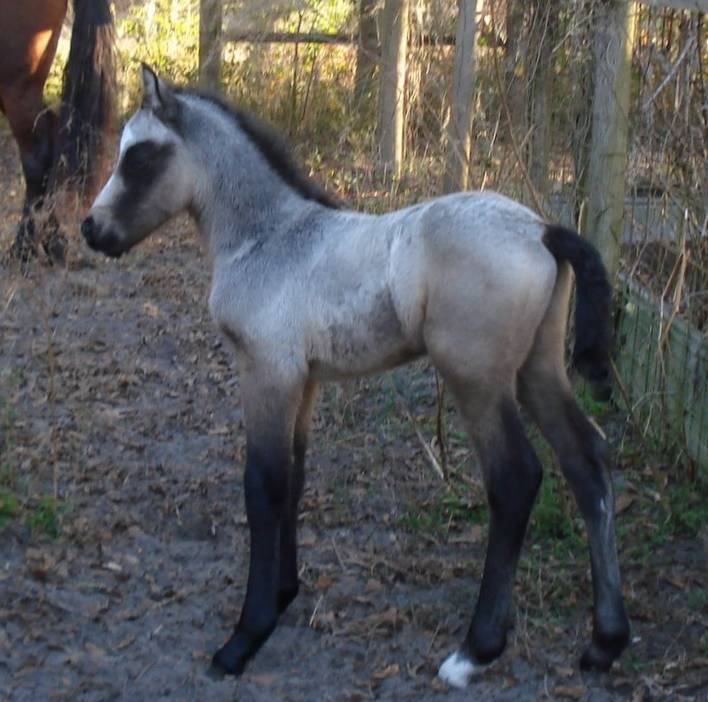 above: Henry Casanova (grandson of Roary)

Courtney's April Frolic, who was here for about 8 years and had four foals while here, most notably Balmullo's Azalea who is shown on the A Pony Hunter circuit as Ooh La La, is in Virginia where she is being used by Alexandra Duckworth as a lesson horse for Ashley and Taylor Loving. Ashley and Taylor had never thought about riding until April moved into their front pasture, rented to Alexandra, but, after just a year, have won many ribbons at local shows.

History:
Balmullo Farm was established in 1978 for the purpose of breeding high quality Connemaras and Connemara crosses for competition in combined training events, dressage, and the hunter ring. Our motto is "handsome is as handsome does" so that temperament is of the utmost importance in creating animals that are personable and tractable.
The first purebred Connemara to come to Balmullo Farm was Rosehill's Glenconi, aka Speckles, daughter of the famous imported stallion Marconi. She joined two Thoroughbred mares living at the farm. The second Connemara was Oakhill's Sweet Ashley. They were both ridden and competed by young children for years, doing double duty as brood mares in their spare time.
In 1982, a weanling colt from Concord River Farm in New England, Concord River's Roaringwater Bay (a.k.a. "Roary"), came to join these mares. Roary's dam was the American Connemara Pony Society's Broodmare of the Year awardee, Lynfield's Proud Hope; his sire, also a society awardee, Whitewood Galway Bay.
Approved by the ACPS at his first presentation to a group of Irish and American inspectors, Roary has turned out to be the epitome of a kind and gentlemanly Connemara.
In 2001, Roary won the Stallion class at the ACPS Region 4 show in Atlanta. (pictured right)
He has sired over 50 foals out of Balmullo Farm mares, as well as a number of ponies at Vanessa Morgan's Foothills Farm and Deb Norman's Glendale Farm. In addition, he both rides and drives and has competed in a number of local horse trials. He has has spent many hours on the trail with both beginning and experienced riders wanting a day in the lovely North Florida countryside.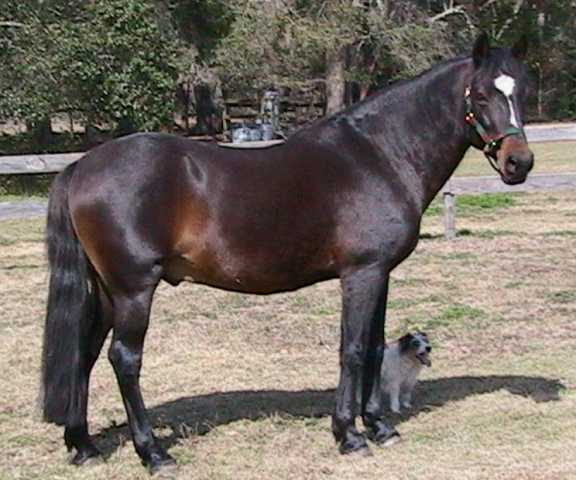 Roary is the perfect example of "handsome is as handsome does."
Click here for more photos and link to Roary's pedigree.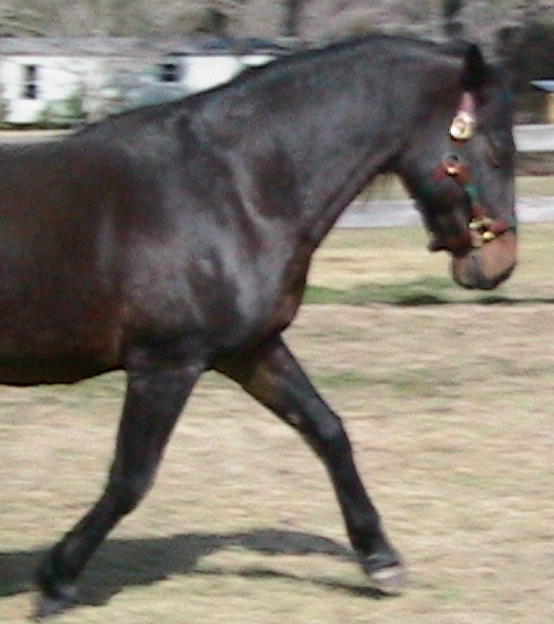 The stallion, Aladdin, well-known Connemara stallion from Virginia, also resided for one winter at Balmullo Farm (winter vacation in Florida!) and produced the beautiful Balmullo's Miss Emma (out of OakHills Miss Independence) as well as the well known stallion, Balmullo's Beacon (out of Tullymor's April Fool).
Roary and Emma have proved to be a great 'nick' producing two fillies and two colts so far.
Balmullo's Gallagher is standing at Erin Terra Farm in Missouri and Balmullo's Miss Lucy just produced her first foal by Bluebeard in Virginia. In November 2004 Miss Lucy was crowned Champion of the first-ever Mountain and Moorland Class at the Devon Horse Show in Pa., winning out over 35 Welsh, Dartmoor, Shetland and other Connemaras, and in 2005 became the ACPS's Connemara of the Year!

Seven Hills Grey Ghost (Fieldstream Nicholas X Tullymor's Heather Lass) has also produced a number of foals for Balmullo Farm. He is now owned by Mike Edwards of Ft. White, Fl, although he comes to visit alot.
Besides, Speckles, Ashley and Emma, Balmullo Farm has had a rotating band of broodmares. Some memorable ones include Tullymor's April Fool, Grand Champion at the Region 4 Show in 199X, Balmullo's Veronica (Roary X Tullymor's April Fool), Courtney's April Frolic (Custusha's Cashel Rock X Aillte Mhuire), Ballywhim Candace (by Dallen McMor), Twinkle Too, and her daughters by Roary and Fieldstream Riley, Balmullo's Little Star and Tullymor's Shandora, respectively. Both Twinkle and Shandora have rather unusual bloodlines very closely related to bothTully Lad and Toureen Laddie. Shandora is expecting a Grey Ghost foal, from an oops-a-daisy breeding, this August.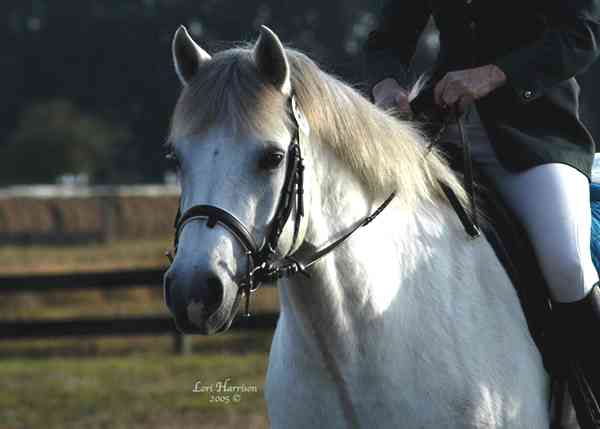 2002 started a slightly new trend at Balmullo Farm, the international trend. Our first imported pony came to Florida from Clifden, Ireland in 2002. This is *Belle Dawn (Cascade Dawn X Lisabelle). "Minnie" (pictured above and below) has proven to be a real joy, winning classes and championships at the Reg III and Region IV shows in 2003 and 2004. Minnie is in foal to Seven Hills Grey Ghost for an August 2006 foal. Because we have only produced colts for the last three years, in 2006 two fillies with international ties were purchased, a filly by Hohnhorst Branni, Ballencrief Sea Breeze, out of Aladdin's Winter Promise (whose lineage traces to Strongbow!) and Erin Terra Morning Star, out of the imported Hohnhorst Madeline by Balmullo's Gallagher. Also two brood mares, one bred in Canada and one bred in Australia will be coming to stay for awhile and hopefully reverse the trend on only colts. And as Roary is now 24, we will be scouring the world for a stallion to take his place.
Minnie (below R photo,
courtesy of Megan Harris
)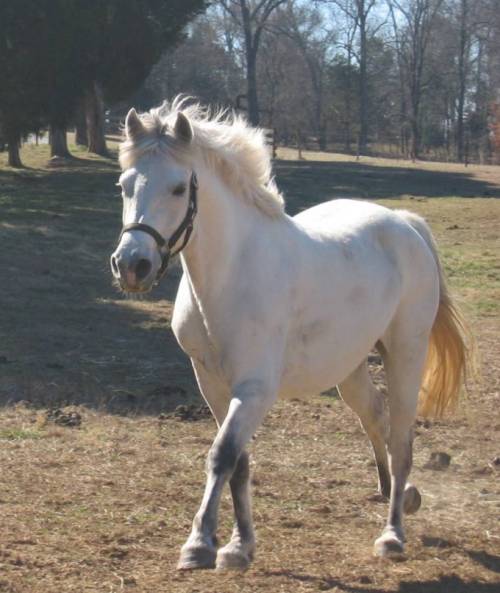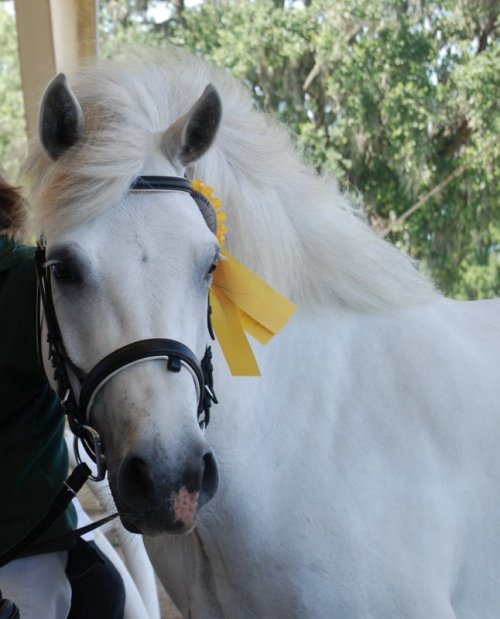 Congratulations to Balmullo's Miss Lucy, winner of the 2005 A.C.P.S. Connemara of the Year ! This award is presented to a pony that has done something special to bring positive attention to the breed. Lucy was the all-breed champion of the Mountain and Mooreland class at Devon in 2004. Lucy is by C.R. Roaringwater Bay and out of Balmullo's Miss Emma by Aladdin and is owned by Cindy O'Flaherty of Middleburg, VA.

And 2008, Balmullo's Azalea, aka Ooh La La, went to the Pony Finals in Lexington, Ky. Azalea qualified for the Green Pony Hunter Finals, The Pony Finals, as well as the Medal Finals with very young rider, Katherine Woodruff. At the competition she was tenth out of 73 in the Green Ponies!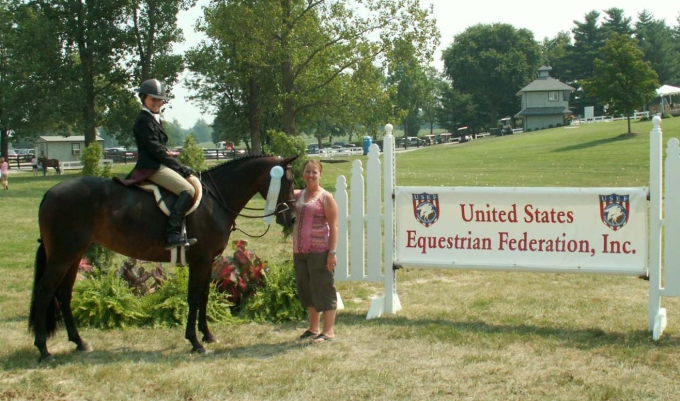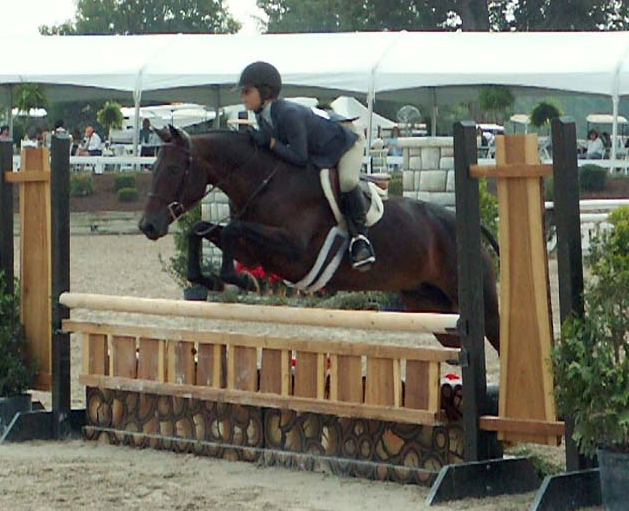 Location:
Balmullo Farm is located just east of Richmond, Virginia, in Enrico County, about 10 miles from Richmond's airport.
It is easily accessible from I-64 or I-295 and, of course, the Richmond airport. Visitors are always welcome!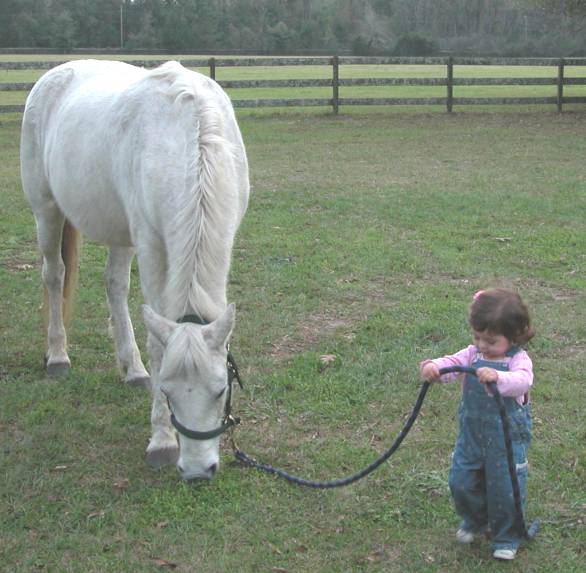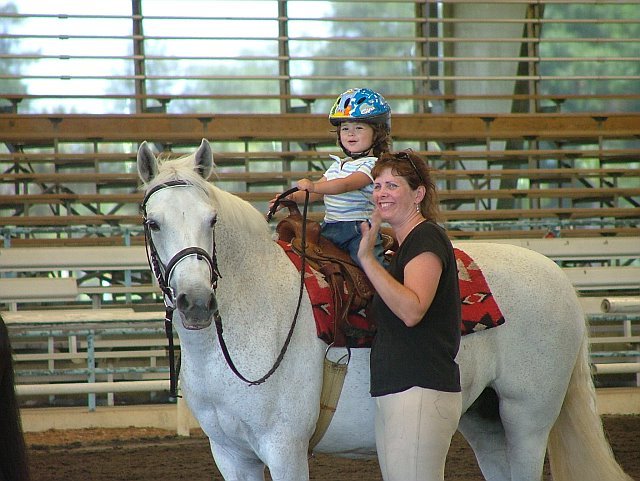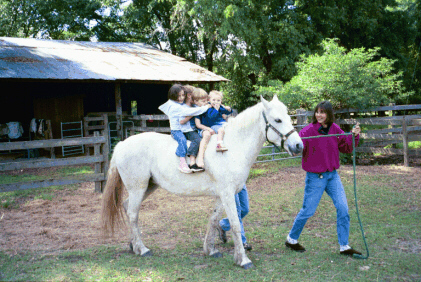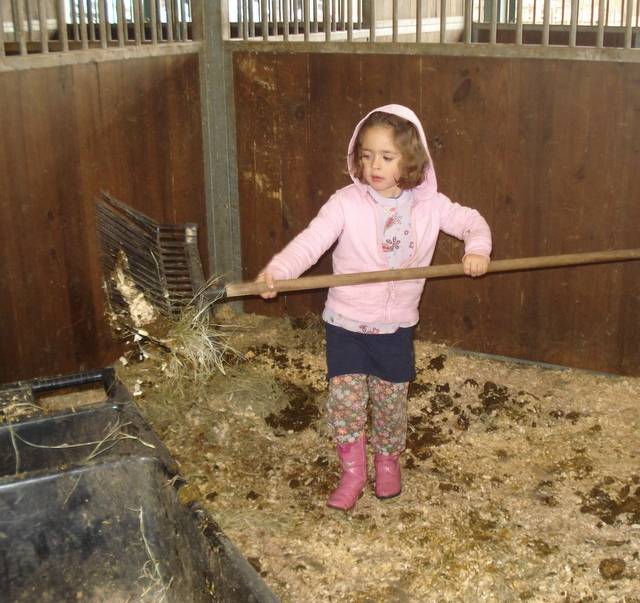 Come and visit, we will find something for you to do!